Want to know where we're going in such a hurry?..Click Here!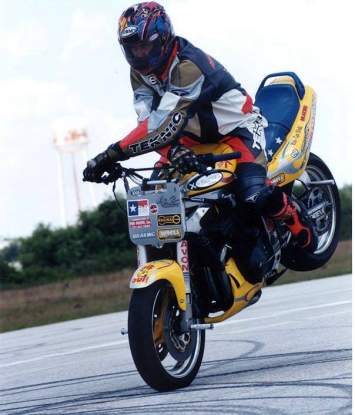 Todd Colbert stunned fans as he entered our Hooters Bike night by doing a textbook stoppie across the parking lot. The manager was about to say something when I exclaimed," Thats Todd Colbert.......He usually gets paid a lot of money for doing that at Bike Nights..." Oh.....Cool!" was his adoring reply. Click on the photo to go to his site for more great photos and vids.
His upcomming scedual includes performances at:
Aug 30: YBOR City,Tampa Fl. 7th ave at midnight in front of Tahiti Joes.
OCT 18th 4:30 Pm at Daytona Fun Machines on Ridgewood (U.S.1)
and on the 19th and 20th at Daytona speedway!
Go get it,Todd!!!
The only News you can Believe.
Find out where the Terrorist ARE!
Lets Get the Bastards!!!
Want to Know what time it is?
Our Own Radio Station....Check it out...you won't regret.....
Brother Rad Sportbikers from Akron Ohio!!!